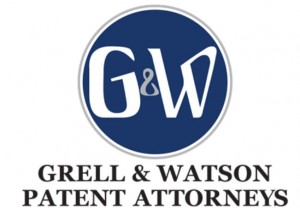 Atlanta Patent Attorney – Call for a FREE Patent consultation (678) 383-4886.
Grell & Watson IP Law, Patent Attorney, Trademark Attorney
Grell & Watson specializes in Intellectual Property Law – Patent, Trademark, Copyright, Business Contracts, & Licensing. We are a group of patent lawyers specializing as Patent Attorney, Patent Lawyer, Patent Attorneys, Trademark Attorney, and Trademark lawyer.
Grell & Watson IP Law, LLC ("GWIP") is a unique intellectual property law firm concentrating in the areas of Patent Law, Trademark Law, Copyright Law, and related IP Matters. GWIP is a resource to, not only the Atlanta metro area, but all of Georgia.  GWIP is one of a few firms that specializes in IP law that serves Atlanta and cities throughout Georgia.  GWIP's unique business model of reducing the overhead costs of traditional law firms while still maintaining all of the resources required of IP law firms, allows GWIP to serve Atlanta and the rest of Georgia in an extremely efficient manner that will be economically beneficial for the clients and the community.   GWIP is well positioned to offer clients in Atlanta and throughout Georgia the full range of services required to draft, prosecute, and protect the rights involved in all aspects of intellectual property – patent, trademark, and copyright.
I'm a Patent Attorney and Entrepreneur who holds his own portfolio of patents and trademarks. I don't just practice as a Patent Attorney I am an Inventor and Idea person as well.
Do you have a new invention or idea?
I am a patent attorney, licensed with the State of Georgia (Atlanta Patent Attorney, Atlanta GA and registered with the United States Patent and Trademark Office.
Call for a FREE Patent consultation (678) 383-4886

Mat Grell bio:
Law School: Thomas Cooley 1995  Undergraduate / Graduate: University of Iowa, BSEE Electrical & Computer Engineering 1988
Mat is a founding partner of Balser & Grell and brings a unique background and 15 years of IP experience to the firm.  Mat currently concentrates his practice in patent drafting and prosecution and business contract drafting and negotiation.  Prior to founding the firm, Mat was a patent attorney at Myers & Kaplan, an IP boutique in Atlanta, GA.  From 2000-2004, Mat was VP & General Counsel for Movaz Networks, Inc.  His primary responsibilities included duties as a member of the executive team, including detailed experience with formation, raising $150M in capital, business contracts, intellectual property, HR/employment, corporate policy, M&A due diligence, dispute resolution, sales and business development, engineering & product management legal support, supply management and export compliance.
Experience
IP Experience – Mat's patent prosecution experiences include telecommunication systems, optical switching, micro-electro mechanical systems (MEMS), optics and optical electronics, analog/digital circuits, power electronics, check processing, financial systems, insurance & plant inspection systems, desalination systems, waste water treatment apparatus, door and cabinet hinges, door closure and latch mechanisms, mechanical devices and systems, software, and business methods, among others.
Entrepreneur – Founded start-ups such as www.InventorStartKit.com The kit includes a digital download with inventor information & instructions, actual samples, and your own ready to use forms for recording your invention, evaluating the protectability and marketability of your invention. In addition, the website offers helpful educational information about inventions; Inventor NDA; and Inventor Business Plan Kit. www.BeanPool.com is a on-line and print publishing company in the local search arena. BeanPool provides a trusted resource for on-line users to share their opinions on local businesses and to connect with each other and with the best businesses in their community.
IP Licensing Experience – Senior Licensing Officer with the University of California Office of Technology Transfer & Michigan State University Office of Intellectual Property Manager of Engineering & Physical Sciences, Office of Technology Transfer System wide office. Managed technical writers, technology marketers and an intellectual property portfolio of 300+ inventions yearly, negotiated and drafted terms and conditions of research, material transfer and license agreements (software, electronics, medical devices, physics& plant varieties), managed patent interference actions, mediation, arbitration, litigation and outside counsel.
Corporate Contract Experience – NDA, development, prototyping, contract manufacturing, trials, quality assurance/testing, interoperability, purchase & license, support, maintenance & EFI services, patent & software licensing, reseller/distributor, services, teaming, OEM, software escrow agreements, IT, web development, joint development, supply, promotion, and other business contracts.
Engineering Experience – Worked as a controls Engineer, Department of Power Operations, Hydroelectric Power Plants Union Electric. I managed 15 electricians & mechanics as the senior project engineer for the automation and remote control of hydroelectric generators using PLCs, rewinding of generators and their conversion to static excitation, and switch yard and transformer installations.
Admissions
Mat is licensed to practice law in Georgia and Washington.  Mat is also registered to practice before the U.S. Patent  and Trademark Office.
Members
Mat is a member of the State Bars of Georgia and Washington and the American Bar Association.
Atlanta GA Offices:

Marietta, Cobb
Grell & Watson IP Law, LLC, 1870 The Exchange, Atlanta, Georgia 30090 (678) 383-4886 phone
Patent Attorney Atlanta, Vinings, Smyrna, Cobb County
Grell & Watson IP Law, LLC, 3330 Cumberland Blvd, Suite 500, Atlanta, Georgia 30339 (678) 383-4886 phone (678) 373-4746 fax
Patent Attorney Cobb County
Grell& Watson IP Law, LLC, 666 Powers Ferry North SE, Marietta, GA 30067.  (678) 383-4886‎ phone (678) 373-4746 fax
Patent Attorney Acworth, Cartersville, Rome Bartow County
Grell & Watson IP Law, LLC, 37 Creekside Court, Acworth, Georgia 30101 (678) 383-4886 phone (678) 373-4746 fax
By Mat Grell, Patent & Trademark Attorney
Atlanta GA Patent Attorney – Patent Attorney Atlanta GA

Call for a FREE Patent consultation (678) 383-4886 Email